In just over a year Sophos Managed Threat Response has soared to over 1,000 customers, defending organizations across various verticals, industries and sectors. MTR customers can rest easy knowing that they are protected against a diverse range of threats with the industry's best combination of technology (Intercept X protection and EDR) and human experts.
To ensure MTR customers have the full picture of what is happening in their environment and are aware of all the hard work being done to protect their organization, the team has introduced a new weekly report which provides a detailed look at the past seven days of activity. The new weekly report includes:
Case Activity Trail: Easily identify ongoing cases that require action.
Most Investigated Devices: Pinpoint devices that may warrant intervention or posture improvements.
Detections Classification Summary: Reveal the top 5 suspicious detections being observed by MTR.
Detections This Week: Understand which days of the week result in the most detections and how they compare to the week before.
Detections by Operating System: Know which operating systems in your estate are raising the most detections.
Case Metrics: Discover the volume of detections made, cases raised, cases escalated, and threats identified by MTR, and compare to the previous week.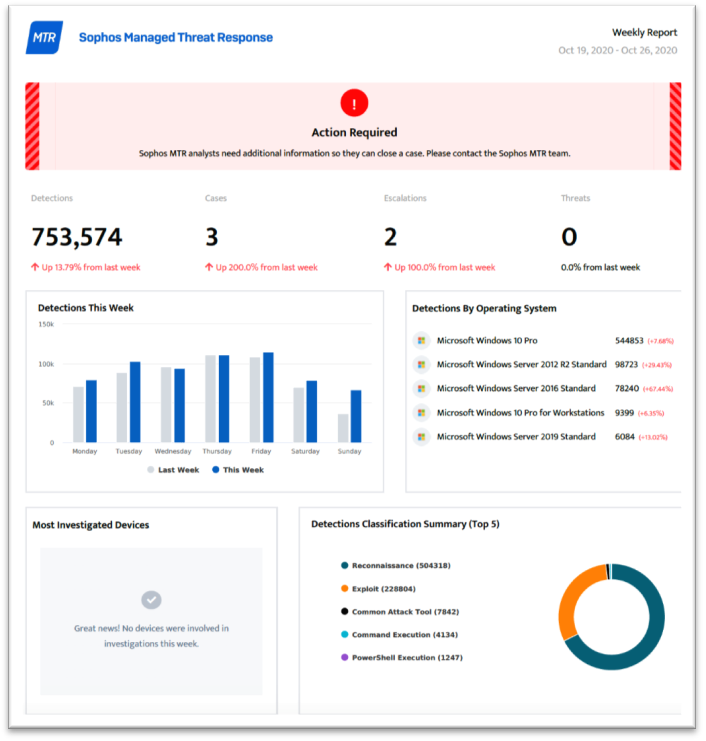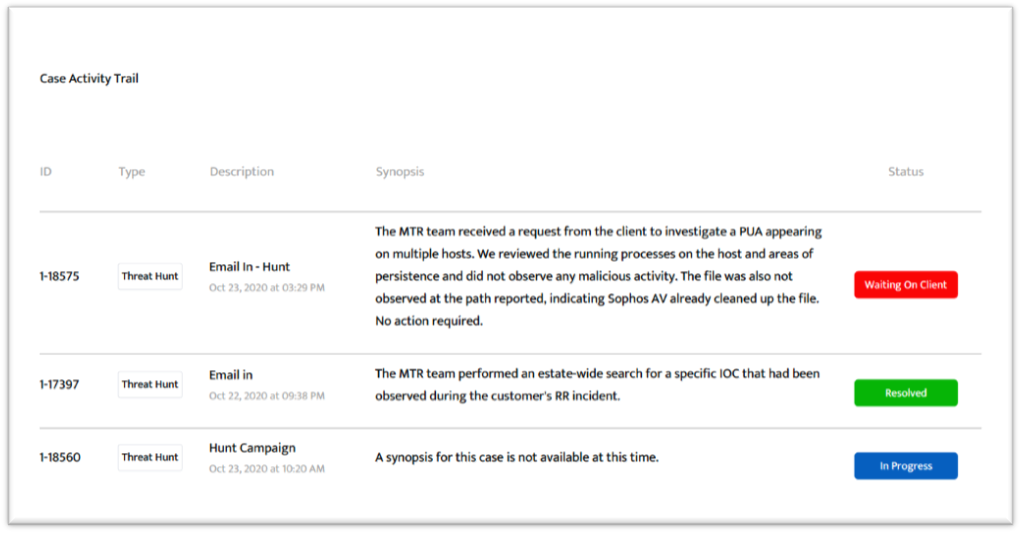 You can download a PDF sample of the report on the partner portal.
No action required emails
There is a saying that "no news is good news".  However, for MTR customers sometimes when things are quiet they might think that nothing is happening.  Of course, that is not the case as the MTR team is always monitoring the customer environment and investigating suspicious activity.  To combat this perception new case summary emails will be sent to designated MTR contacts even when no action is required and the case has not been escalated.
Getting Started with MTR video
To ensure new customers can get up to speed as quickly as possible the team has produced a new 10-minute walkthrough video which guides the viewer through the initial setup steps for MTR.
https://vimeo.com/487366275/a223976c90
Casebooks
Additionally, we will continue to highlight interesting stories about successful Sophos Managed Threat Response and Rapid Response to help highlight the amazing work being done by the team. Recent casebooks include: