The clever team in Sophos technical support have created the SURF tool just for you. Sophos Universal Reader and Finder (SURF) is a support utility that was created to allow for easier and more in-depth troubleshooting. It helps to automate the extraction and analysis of the Sophos support log bundles – the SDU and CTR – from Sophos Central Endpoint and SFOS respectively. The tool is meant to provide easy access to the contents of these bundles, extracting summary data and providing a search capability that lets a user search the contained logs, but better still SURF can even identify known issues and suggest remedies.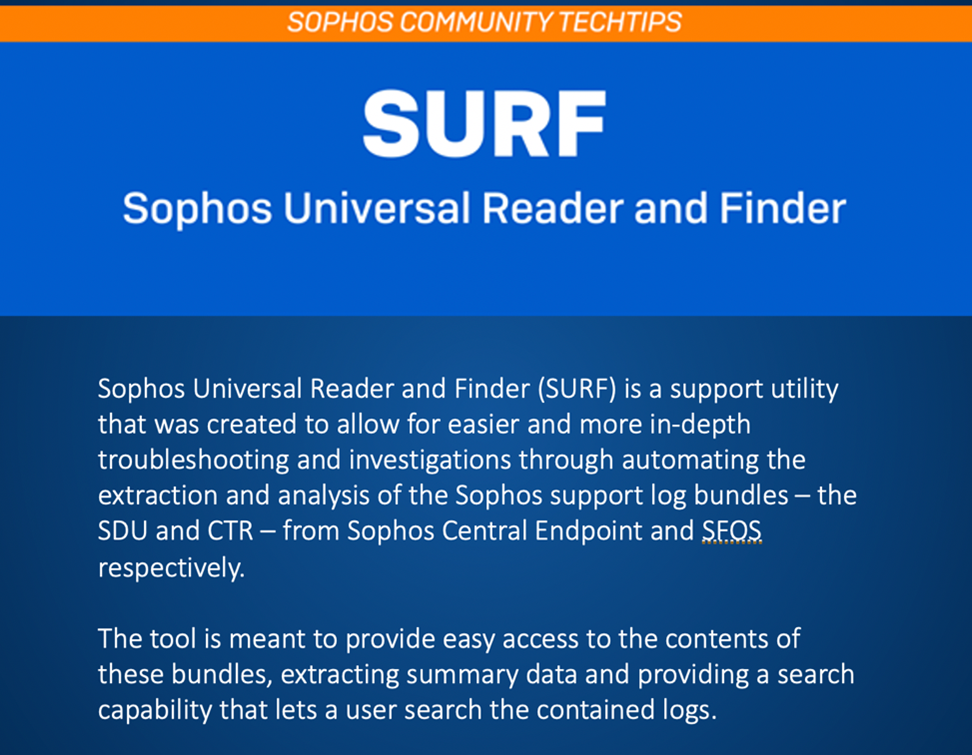 The innovative detection engine will hunt through logs and identify known issues. It will highlight any issue that it finds and suggest knowledge base articles (KBAs) that will help to resolve it, whatever it may be. The detection ruleset and KBA links are continually updated by Sophos support so the tool will continue to get better and better.
To witness SURF in action, check out this Techvids video.
Download it for yourself. Surf runs under Windows but can ingest logs from other platforms too.
Download it today, stop scrolling and start SURFing instead!
PS: Do you know our presales help desks that provide help with RFPs, wireless planning, firewall migration, and sizing – at no cost? Discover more in these blog posts.