This January and February, join Wingman MSP Marketing's Mark Copeman and Sophos' Anna Becker for two insightful, practical marketing masterclass sessions to boost your website's conversion and grow your MSP business. Turn your website into a new member of your sales team and register today. Also, attend and have Mark review your website live during the session!
Get your business website reviewed, live!
Mark has reviewed 150+ MSP websites over the last 18 months and is here to review yours. He will deliver practical sessions on the five biggest mistakes MSPs make with their websites, deliver multiple live reviews (attend to stand a chance for a live review) and he will show you how to create the ultimate conversion-busting landing page using Sophos-provided assets.
Session details
Views to Revenues: Insights on MSP Website Success
January 31, 2023 at 10 am GMT | 11 am CET | 11 am CAT
Speaker: Mark Copeman
From theory to Practice: How to Optimize your Website with Sophos MDR Assets
February 2, 2023 at 10 am GMT | 11 am CET | 11 am CAT
Speakers: Anna Becker & Mark Copeman
Meet our speakers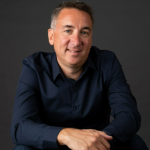 Mark Copeman
Director of Wingman Marketing Ltd.
MSP Marketing Consultant
Anna Becker
Senior Marketing Manager EMEA Channel & MSP, Sophos