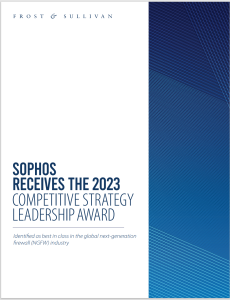 Sophos Firewall has received Frost & Sullivan's prestigious Competitive Strategy Leadership Award in the next-generation firewall (NGFW) industry. Frost & Sullivan applies a rigorous analytical process to evaluate multiple vendors for each award category before determining the final award recipient.
We are very honored that Sophos Firewall was awarded this distinction based on strategic innovation and customer impact.
Frost & Sullivan praised our focus on delivering a turn-key cybersecurity solution that enables organizations to scale their security operations without increasing IT complexity. They also praised us for enabling organizations to reduce TCO, strengthen their security posture, enhance visibility, and improve compliance.
They noted that we are uniquely positioned to provide a holistic cybersecurity platform through Sophos Central, which eliminates blind spots in increasingly complex network environments while not forcing customers to compromise on performance for better firewall security:
"Sophos' firewall offering removes the burden of choosing between security and performance with its Xstream acceleration engine, which balances data traffic between CPUs to optimize performance and keep the network secure."
Frost & Sullivan concluded that Sophos Firewall aligns with customer needs for better price/performance and value, a great ownership experience, and the option to easily scale or adapt as their needs change or grow.
"Sophos has capitalized on opportunities to simplify its product portfolio, solidifying its position as one of the leading NGFW vendors in the market. For its strong overall performance, Sophos earns Frost & Sullivan's 2023 Global Competitive Strategy Leadership Award in the next-generation firewall (NGFW) industry."
Download the full Frost & Sullivan Award Report and check Sophos.com/Firewall for more information.