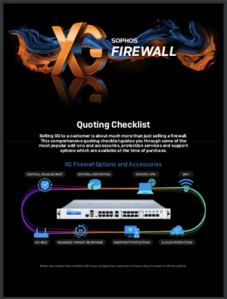 The quote checklist (on the back page of the PDF) covers everything that should be discussed with prospects during the finalization and quoting process to ensure their needs are adequately covered.
The checklist includes: 
Hardware, APX access points, HA, SD-RED, and accessories
Protection subscriptions and bundles
Central Firewall Reporting and management
Professional services and support
Make the most of this tool to not only maximize customer satisfaction but also the deal size.
This updated sales PowerPoint presentation goes hand-in-hand with the quote tool to help cover all of these important options with customers. In particular slides 69+ (How to Buy) are ideally suited for discussing add-ons for XG Firewall.
—
Please note: The links above require access to the Sophos Partner Portal which is available for Sophos partners only. If you are a registered partner and have trouble logging in, please contact our Partner Care support team by opening a case on support.sophos.com.