Sophos Switch is a highly anticipated addition to the Sophos product portfolio.
This week, we're starting the enablement activities for Sophos Switch (together with ZTNA), as part of our Secure Access Portfolio. This post provides a few key dates for your diary and a snapshot of the models we plan to launch.
The Sophos Switch Series
The Sophos Switch Series will eventually consist of ten models, eight of which are planned for release from mid-December. We will offer models with 8, 24, or 48 ports, either 1GE or 2.5GE, and including various Power over Ethernet options. Together with Sophos Firewall and Sophos Wireless, this gives you a single vendor for network security, all managed in Sophos Central. This opens up completely new cross-sell and upsell opportunities to expand your Sophos footprint and strengthen your pitch by "selling the network stack".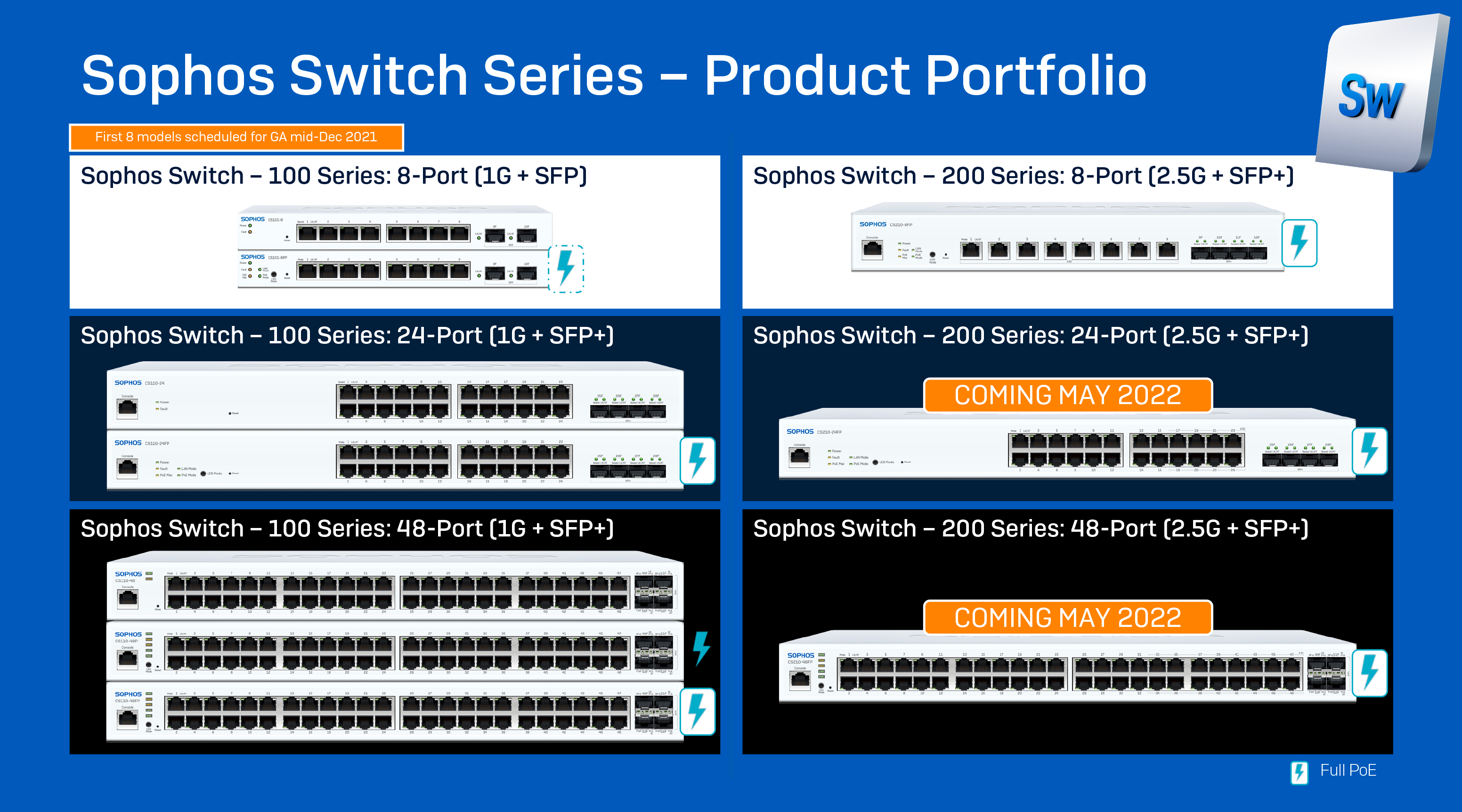 Channel Preview and Enablement
The Channel Preview on November 17 is intended to equip you with enough information to understand the product portfolio, positioning, and sales plays.
For the preview, we will have the first sales assets available via the Partner Portal which you can access via the Switch Product Page.
We have Sales SophSkills sessions planned for November 17th and Tech SophSkills on November 18th.
17-NOV-2021: Selling Sophos Switch and ZTNA
1 hour session – Open to Partners
Registration links on the Partner Events page
(On the events page, click SophSkills on the top right to filter)
A recording will also be made available via the Partner Portal after the event
18-NOV-2021: Tech SophSkills: Sophos Switch
1 hour session – Open to Partners
Registration links will be available on the events page in the coming days
A recording will also be made available via the Partner Portal after the event

If you're new to network security and missed our foundational 'Understanding the Basics of Zero-Trust and Network Switches' session on November 3, a recording will be made available on the Partner Portal.
Sophos Switch – Key Dates
First Availability
We are currently on track to have the first models ready to order and shipping – initially in limited quantities – from mid-December 2021. We will confirm the exact date closer to that time.
Price List
You can expect to see a price list update in mid-November which will include the new Secure Access products: Sophos Switch and Sophos ZTNA.
Market Launch
We are planning to launch Sophos Switch to the channel media in early to mid-December, with a broader market launch event for multiple products planned for January 25, 2022.
As always, dates are provided based upon the current information available and may be subject to change. We will keep you updated in the coming weeks.