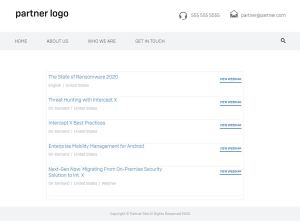 Webinars are the number 1 tool for lead generation. Statistics show that that there is a 75% better chance of people watching a video than reading a text. So, there is good reason to hold a webinar, especially at current times when we can't easily meet with other people.
Sophos Webinar-in-a-Box is a great tool that turns your website into a lead generation engine. You don't even need to plan, manage, and execute your own webinar. All content is ready made. All you have to do is embed a code and the webinar list updates automatically.
Why not start now? This free tool will automatically sync the latest Sophos webinar content to your site, and automatically generate leads for you. Get started here.
Already using our Webinar in a Box syndication tool?
As you may have noticed, the Sophos Partner Portal has gone through a handful of changes to its infrastructure over the past weeks. We would like to draw your attention to another update which may require you to make a small adjustment as we have updated the content source platform. This means you will need to change out the iFrame code you used to deploy the tool on your site. This will ensure that you keep getting the latest content synced through to your site.
You can find the updated iFrame code on the Sophos Partner Portal.
Please note: The links above require access to the Sophos Partner Portal which is available for Sophos partners only. If you are a registered partner and have trouble logging in, please contact our Partner Care support team by opening a case on support.sophos.com.