Last year, we launched our lucrative Global Partner Program in order to optimize partner profitability and deliver consistent and sustainable engagement.
Sophos performs the next yearly partner program compliance audit on March 31, 2022. To determine your organization's partner tier for the following year, we will be looking at certifications held on that day as well as the Sophos revenue generated between April 1, 2021 and March 31, 2022.
What's new?
All certifications have an expiry date, which is set for two years from the point of course release. This means that, in order for a certification to count towards partner tier or technical accreditation requirements, it must be current (not expired).
How does it work?
All certifications are valid for two years from the point that Sophos released them. So for example:
Sophos released Sophos Firewall Engineer v18.0 on February 11, 2020. This course expires on February 11, 2022.
Julia completes this course on November 3, 2020.
Julia's expiry date for Sophos Firewall Engineer will be February 11, 2022 (two years from the date Sophos released the course).
Partners can extend their expiry dates by completing a subsequent Delta course, which will extend the expiry by two years from the date that Delta was released. Using the same example:
Sophos released Sophos Firewall Engineer 18.5 Delta on April 21, 2021. This course expires on April 21, 2023.
Julia completes this Delta on July 2, 2021, bringing her knowledge in this certification up to date at v18.5
The expiry date for her original Sophos Firewall Engineer certification is extended from February 11, 2022 to April 21,  2023.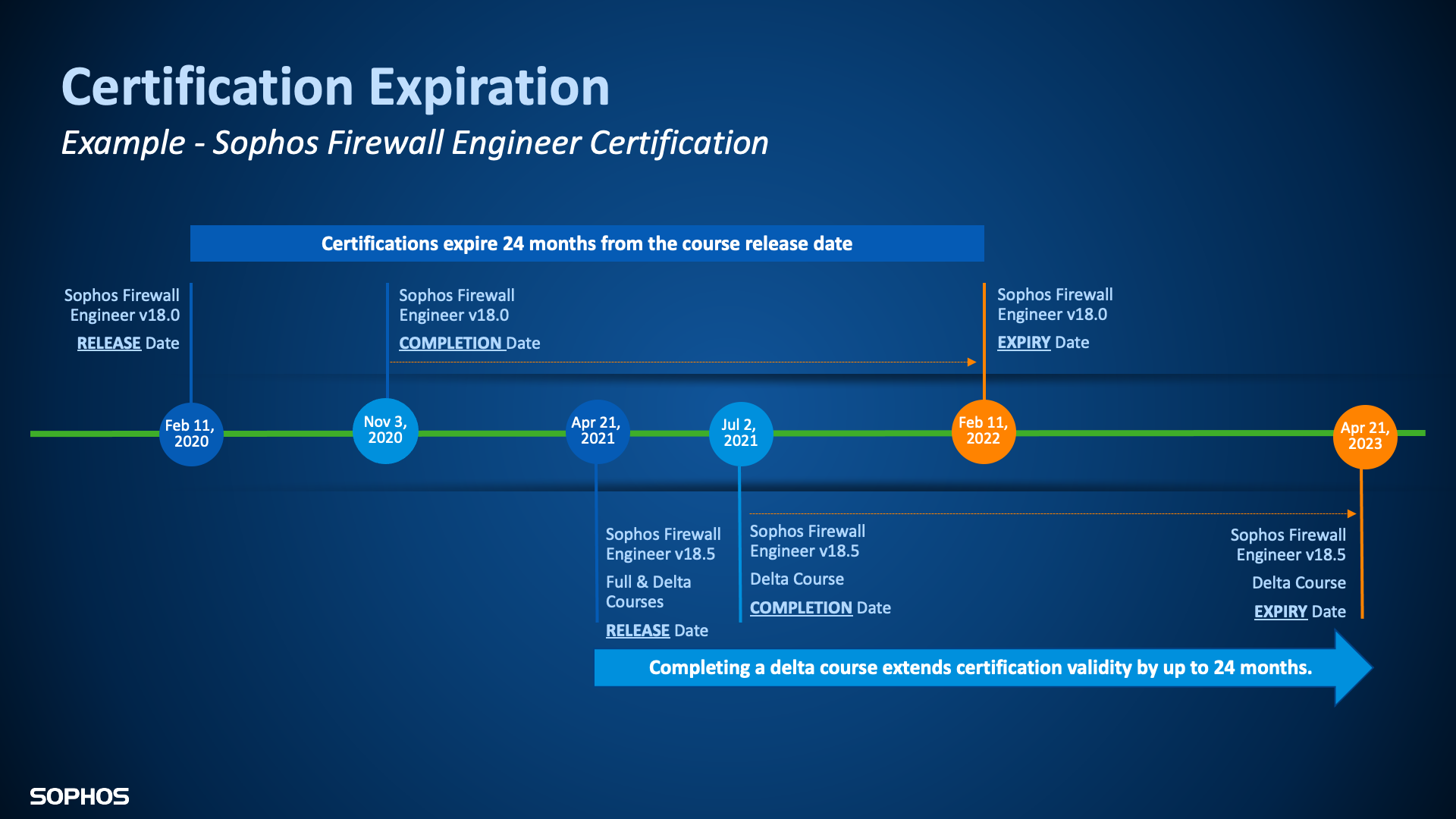 Release dates and subsequent expiry dates for all certifications are published here: https://partners.sophos.com/prm/English/c/sophos-certification-lifecycle It's a great resource to see when certifications will expire.
To remain compliant, partners need to ensure their certifications are current (not expired) by March 31, 2022.
What about Sales certifications?
They work in exactly the same way: valid for two years from the point of release. Every year, we'll release a new version of the SC01 Sales Fundamentals course on April 1, along with an SU01 Sales Fundamentals Update course.
New partners should continue to complete SC01 as normal. Their certification will be valid for two years from April 1. Partners who have completed SC01 previously can access the short SU01 Update course to extend their expiry date.
The SU01 Update course contains the most recent exam for Sales Fundamentals, so assuming that you are up to date on our solutions and GTM strategy, you'll be able to work through it pretty quickly. But if you need to refresh your knowledge, the SC01 materials will always be available to you.
How can partners check their status?
Today, you can access all of your certifications and associated dates via the Transcript tab in the Training Portal or conveniently with this direct link. This will show current as well as expired certifications.
Soon, we'll be launching a brand-new compliance section to the Partner Portal for Portal Administrators. This will display all of their company's certifications in one place, so that partners can manage their compliance. Partner Portal Administrators will receive more information on this in a couple of weeks.
What if I have more questions?
Hopefully we've answered all of the big questions here, but for anything else, drop us a line at globaltraining@sophos.com and we'll be happy to follow up.
Just remember:
Certifications are valid for two years from the point of release
Expiry dates can be extended by completing subsequent Delta courses
Expired certifications don't count towards compliance requirements