If you're reading this, you're in for a treat! SD-WAN is trending with the end user community right now, and we're turning up the heat on our offering in this space with SFOS v19.
By the time you read this, the early access program (EAP) should be available, or imminent, so strap in and brush up before the big launch.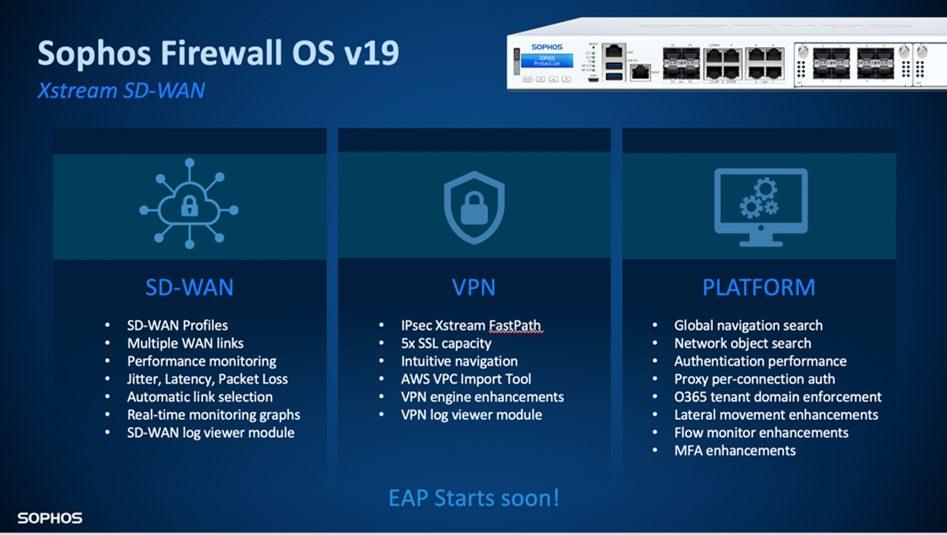 I'm sure you're already familiar with the dual-processor architecture of our new XGS hardware line-up. The XStream custom silicon is already allowing fast-path, approved packets to whizz through the Sophos firewall at blistering speeds, but it's capable of more.
SFOS v19 will port the decryption of IPSec traffic over to the XStream chip. This will unleash a double performance benefit: Firstly an improvement in IPSec throughput but also freeing resources on the main processor for other arduous tasks, in particular TLS and deep packet inspection.
One of the highlight features of Sophos Firewall OS v19, however, is the new Xstream SD-WAN capabilities that provide automatic ISP link monitoring and routing based on key performance metrics like latency, jitter or packet loss.
Customers can easily setup SD-WAN link routing strategies based on first-available, best quality (where the firewall selects the best link based on latency, jitter or packet loss) or they can use a custom defined SLA profile that provides very granular controls over what criteria to use when selecting a WAN link. This comes alongside improvements to the UI concerning SD-WAN configuration and utilisation, dedicated SD-WAN logging and new SD-WAN reports.
Keep an eye out for the EAP – we'd love your feedback!