Technology standards, such as Wi-Fi 6 and Wi-Fi 6E, are driving the demand for network infrastructure which can support speeds beyond traditional Gigabit Ethernet. Networks which are not optimized to handle faster speeds could become your future traffic bottlenecks, preventing you from benefitting from the advancements in performance which new technology can bring. Switches often have a longer lifecycle than other network devices, such as firewalls, and so whether you're deploying new devices today, or just planning for the future, faster connectivity should be a consideration for any new network infrastructure.
Our new 2.5G switch models
After the launch of our first cloud-managed, network access layer switches in December 2021, we are now introducing two additional 2.5G models: CS210-24FP and CS210-48FP.
These new models will be available to order from June 14, 2022 and can be found on the 2022-2.0 price list.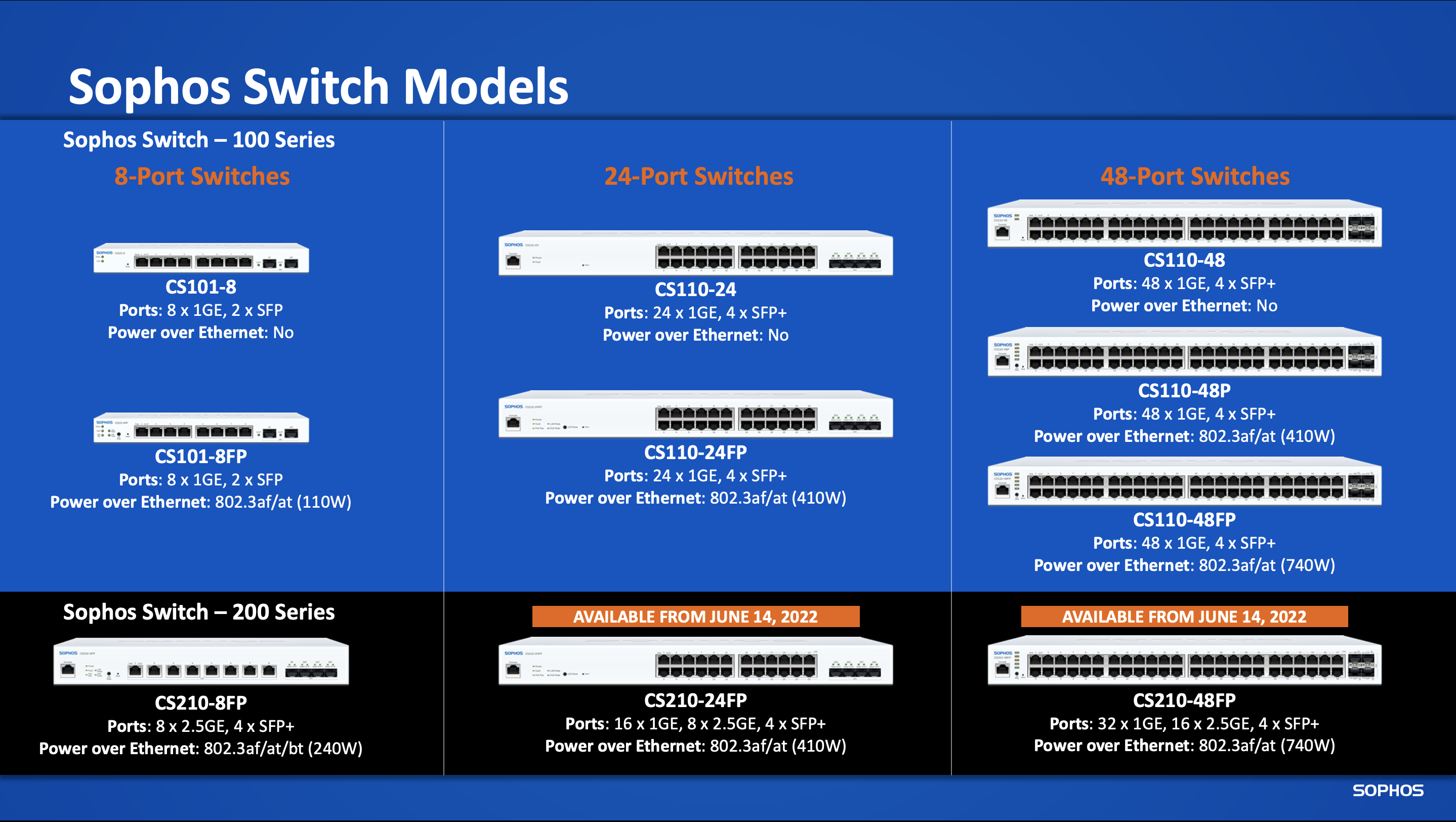 Both models offer a mix of 1G and 2.5G ports and come with Full Power over Ethernet (PoE).
Note: Full PoE describes a switch which provides at least 15.4W of power per port when all PoE-capable ports are used simultaneously, however, using fewer posts, they can also support devices requiring up to 30W, as long as you stay within the total power budget.
A snapshot of the technical specifications for these new models is shown below and further details are available on the Partner Portal or under sophos.com/switch.
As with all of our switches, these models come with a Limited Lifetime Warranty.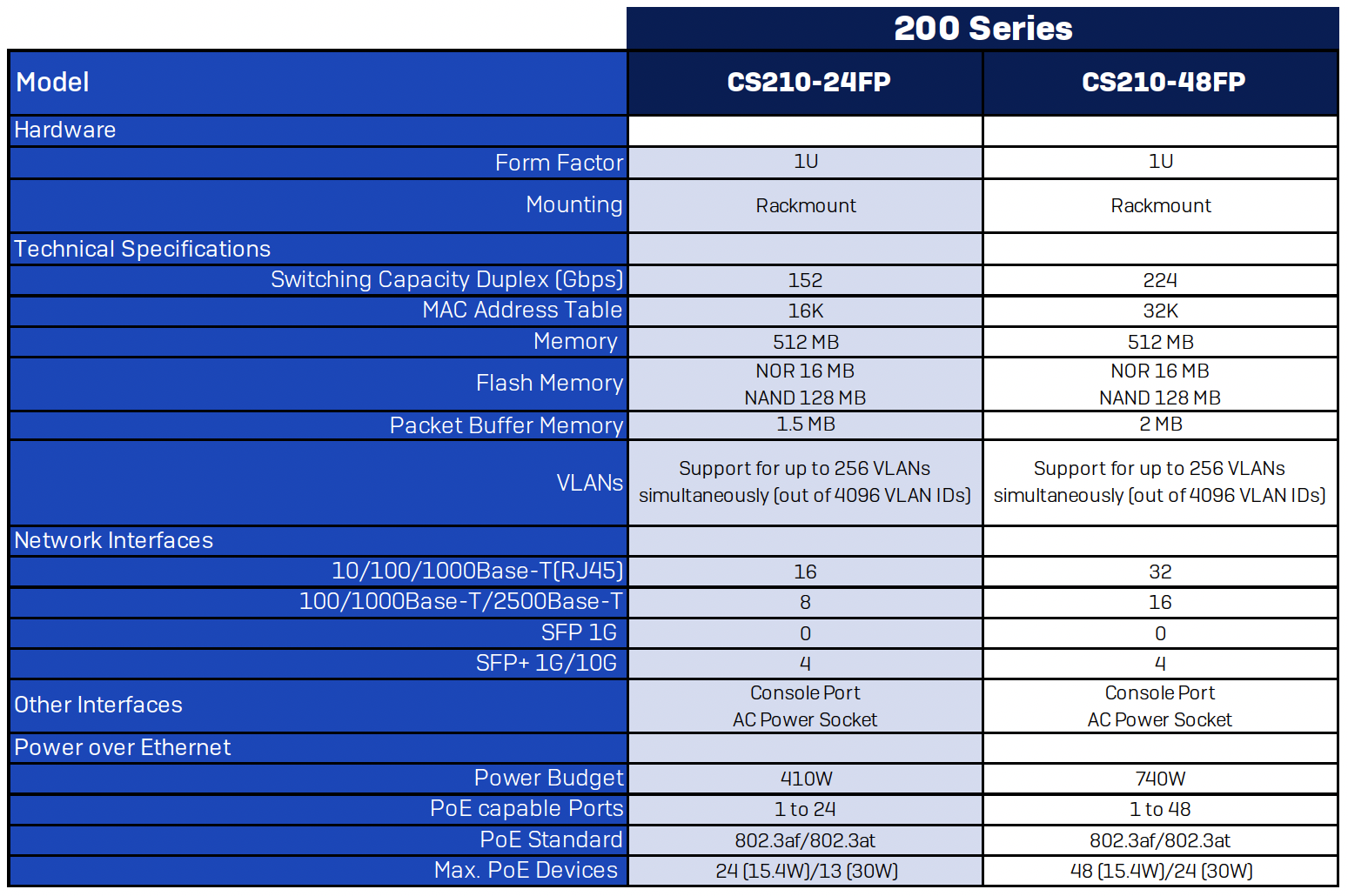 All 2.5G ports on our switches will also work with intermediate speeds such as 100 Mbps or 1 Gbps, so your devices can run at their designated speed. This is possible while using your existing Cat5e and Cat6 cables, saving you the cost of a full rip-and-replace.
Scalable cloud management
As many businesses transition to hybrid working, the importance of flexible, scalable work environments has never been more evident. The management of those environments needs to be centralized, remote-capable, and resource-friendly. We are currently seeing a significant shift from the use of on-premises controls to more flexible and scalable cloud management.
While the more advanced configuration will generally be done using local management, ensure that you're positioning the Support and Services SKU alongside every switch you sell to unlock Sophos Central management and provide access to firmware updates and advanced support options.
The network stack
Our success with Sophos Switch to date, is the proof that these products are a perfect enhancement to our product offering. Partners are seeing particular success in selling the network stack consisting of firewalls, access points, SD-RED, and now switches into typical SD-Branch deployments, e.g., in retail environments, and we will soon have the first case studies available. These new models further increase the benefit of having one vendor, one view, helping you to generate cross- and upsell opportunities across the full Sophos product portfolio.
If you missed the SophSkills session Sophos Switch: Selling the Network Stack back in early April, you can access the recording on the Partner Portal.