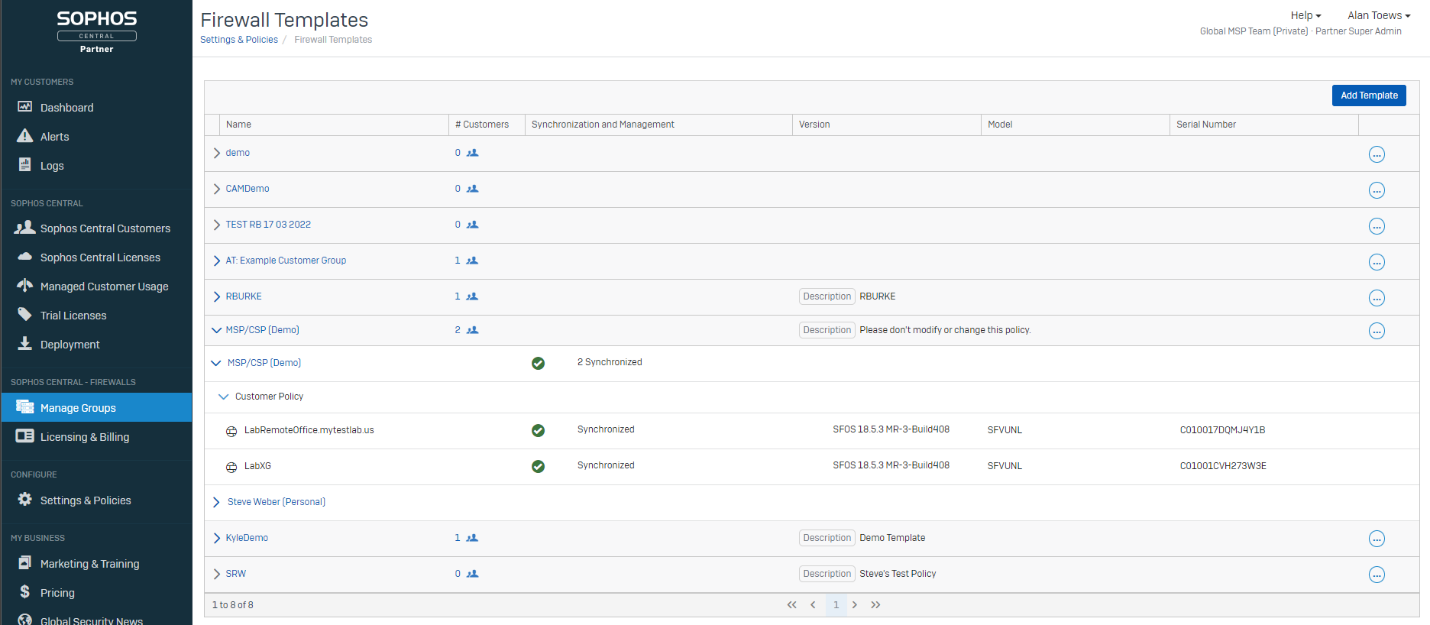 Early Access to New Regions:
Regional support can be important for local data sovereignty which is why we continue to add new region support for Sophos Central.  Sophos Central has now launched in Canada and Japan, with firewall management being available for partners and customers in both new regions.
These new regions are not yet available for customers to choose themselves, and there is another important limitation:  For partners, firewall management templates in the Central Partner Dashboard (CPD) will not yet work with customers in Canada or Japan. If you do not use firewall templates today, this may not be an issue, but if you do, be aware that templates will not apply to customer firewalls in the new regions, initially, with support expected later this year.
We will also be adding support for Firewall Central Management to the other new regions that we've recently announced, with Australia coming later this month, India next, and Brazil in August.
We encourage you to use these new regions with the caveats noted above and will let you know when these new regions are fully supported.  More info on getting started with new regions.
What's New and What's Next for Firewall Central Management:
The Central Partner Dashboard is receiving several new enhancements this year:
Recent Enhancements:
Provide full inventory and status of partner managed firewalls in CPD

Can view if firewall is directly managed by partner template or by nested customer template
Quicker access to customer dashboard from CPD

Improve flex billing process

Remove CFM approval process
Unlocked Assigned To field, can be set for any firewall
Improved workflow and behavior of billing page
Removed redundant, outdated pages
Coming Later this Month:
Role-Based Access Control (RBAC)

Enforce Central RBAC for CPD admins
Firewalls and groups shown in CPD will honor CPD RBAC rights set for logins, and which customer accounts they can interact with.

Central APIs

For onboarding, grouping, and retrieving status of customer firewalls
Scheduling firmware updates

Zero Touch

Improvements to Zero Touch process from customer dashboard
Zero touch deployment of hardware firewalls without needing a USB stick
Will work similarly to SD-RED zero-touch deployments
Will need to be enabled per customer account where required – contact your Sophos Channel Account Manager
Coming in August/September:
Full Firewall Inventory in CPD

All firewalls, regardless of grouping in customer account will be visible in CPD (info will already be accessible to partners via API later this month)

Firmware Update Scheduling

Partners can schedule firmware tasks directly from CPD across multiple customer accounts

License Status in CPD

Enhanced licensing status, particularly Pending field, which is sometimes inaccurate
What's Coming Next: (No firm dates yet)
Backup management from CPD
SSO from CPD directly to customer firewalls
Integrate firewall licensing into customer and partner dashboards (planned for first half next year)
Improve layout and performance of firewall lists in CPD
Onboard new customer firewalls to customer accounts directly from CPD
True Zero touch deployment, automatically available for all accounts
Sophos Central Firewall management is getting better literally every month.  Thanks for your continued support and feedback as we continue to evolve and develop this platform to make your job easier and easier.