Over the last two years, customers have recognized Sophos with an average overall rating of 4.7/5 based on 462 reviews, as of March 31, 2023. What's more, Sophos is the only vendor to be named a Customers' Choice for BOTH the 2021 Endpoint Protection Platforms and 2023 Network Firewalls market categories. In addition, we are the only vendor to be named a Customers' Choice for the Network Firewalls Public Sector, Gov't, Edu segment.
Based solely on independent customer reviews that have been rigorously evaluated by Gartner, we believe this recognition is a testament to the unparalleled value that Sophos Firewall delivers thanks to its industry leading protection, superior visibility, and easier management.
Gartner Peer Insights shares the independent voices of verified enterprise customers. Recent feedback on Sophos Firewall includes: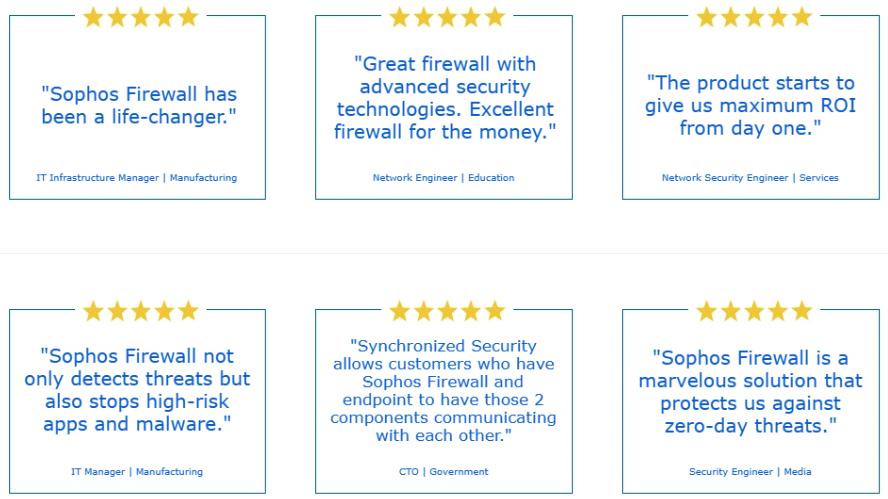 These are just a few of the hundreds of Sophos network firewall customer reviews available on the Gartner Peer Insights site. I would like to take this opportunity to thank our customers who have shared their feedback; we truly appreciate your time and your trust.
Sophos Firewall optimizes your network protection
Sophos Firewall delivers the ultimate value for your network security investment by providing powerful protection and performance for even the most demanding network environments, with benefits you just can't get with any other firewall:
Expose hidden risks – Sophos Firewall does a far better job exposing hidden risks than other solutions through a visual dashboard, rich on-box and cloud reporting, and unique risk insights.
Block unknown threats – Sophos Firewall makes blocking unknown threats faster, easier, and more effective than other firewalls with advanced high-performance TLS inspection and a full suite of advanced protection capabilities that are very easy to set up and manage.
Automatically respond to incidents – Sophos Firewall with Synchronized Security automatically responds to incidents on the network thanks to Sophos Security Heartbeat, which shares real-time intelligence between your Sophos endpoints and your firewall.
Sophos Firewall is just part of the best cybersecurity ecosystem
Sophos Firewall is tightly integrated with our full line of secure access network security products, including Sophos Switches, Wireless, SD-RED and ZTNA – along with the rest of the Sophos cybersecurity ecosystem of endpoint, XDR, MDR, and messaging security solutions.
Whether you want to manage it yourself with our easy and integrated Sophos Central cloud manager, or have us manage it for you with our 24/7 managed threat detection and response service, we've got you covered.
---
Gartner, Voice of the Customer for Network Firewalls, By Peer Contributors, 31 May 2023.
Gartner Peer Insights content consists of the opinions of individual end users based on their own experiences, and should not be construed as statements of fact, nor do they represent the views of Gartner or its affiliates. Gartner does not endorse any vendor, product or service depicted in this content nor makes any warranties, expressed or implied, with respect to this content, about its accuracy or completeness, including any warranties of merchantability or fitness for a particular purpose.
GARTNER is a registered trademark and service mark of Gartner, Inc. and/or its affiliates in the U.S. and internationally, PEER INSIGHTS is a registered trademark of Gartner, Inc. and/or its affiliates and is used herein with permission. All rights reserved.