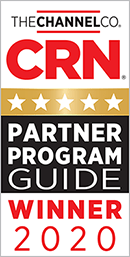 The Channel Company has announced its 2020 5-Star ratings, and Sophos is proud to be among this elite group.
Every year, CRN's Partner Program Guide is the definitive listing of partner programs. It reviews programs offered by technology companies providing products and services through the IT channel and identifies the most rewarding among them.
A 5-Star rating means Sophos is among the best of the best in their partner programs.
How is the 5-Star rating determined? The Channel Company's research team analyzed each vendor's partner program, scoring based on such key factors as:
Investments in program offerings
Partner profitability
Partner training
Education and support
Marketing programs and resources
Sales support
Communication
The team's analysis of the Sophos Partner Program found it provides maximum value and support for solution providers.
The reason Sophos is rated 5-Star is because of our partner program offerings, and we want to make sure you make the most of what we have available. Be sure to visit the Sophos Partner Portal where you'll find:
And if you've never made use of the partner portal before or are just looking for a refresher, you can find a full overview on our Get Started page.
---
Please note: Many of the links above require access to the Sophos Partner Portal, which is available only to Sophos Partners. If you are a registered partner and have trouble logging in, please contact customercare@sophos.com.
In some cases, if you are not logged in, the direct links given may not work. If so, verify you are logged in to the Partner Portal and then click the link again to view the desired page.