Have you recently logged in to the Sophos Partner Portal? If not, we recommend you do so right away to check out our brand new central location for all partner-related resources. With the Asset Library, you'll discover many useful assets and resources you might not have known existed.
Now, it's much easier to browse and locate the various assets available, saving you a lot of time to find what you're looking for, and helping you take your Sophos business to the next level.
Introducing our new Asset Library
To access the Asset Library , open the 'Sales & Marketing' drop-down menu from the main navigation menu and you'll see the option "Asset Library" right at the top.
We have removed the Sales Tools or Product Images sections, as these have now been conveniently integrated into the Asset Library.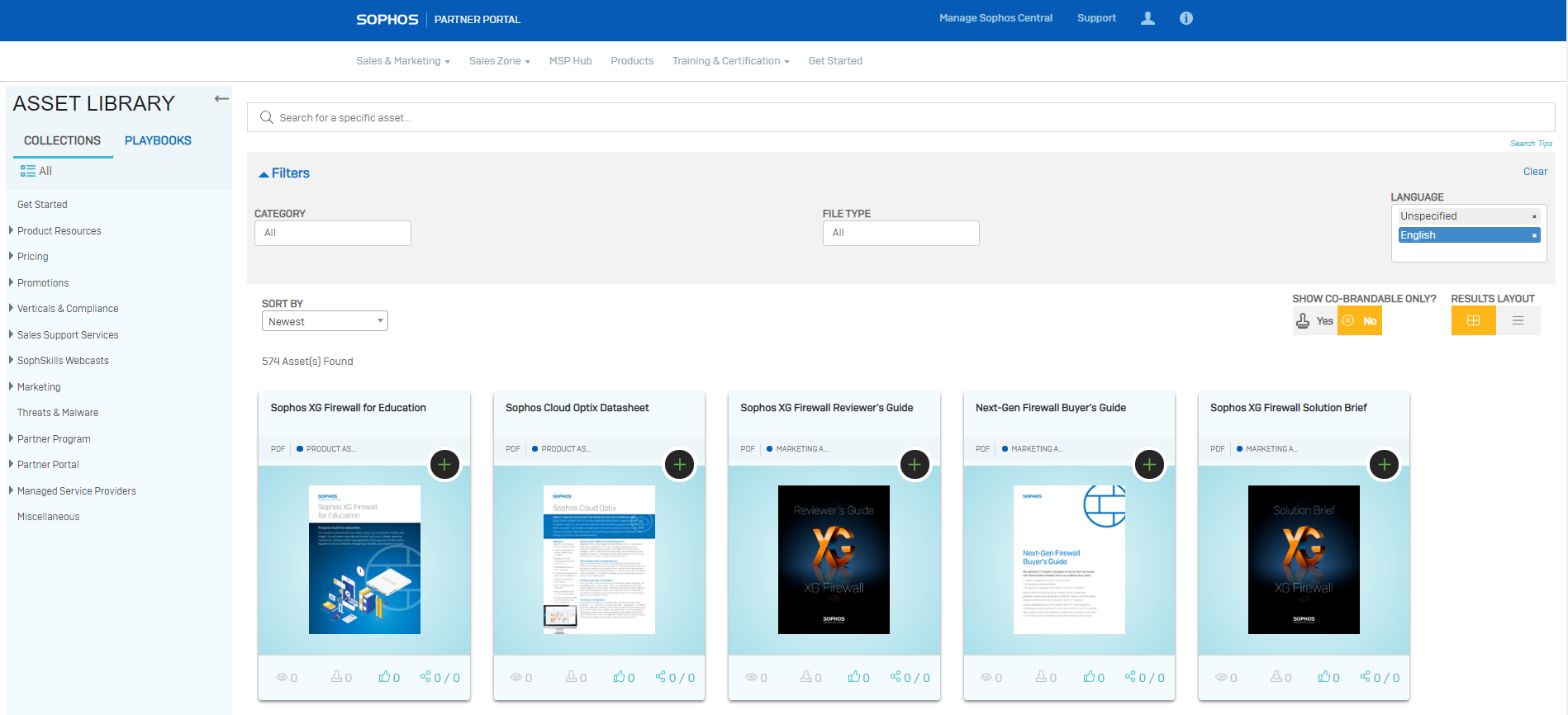 By default, you will always see the latest uploads and can simply scroll down to check what has also recently been updated. There are some handy filters and search options that make it easier for you to narrow down the search results. Here are some tips for orientation:
Collections: Collections are the folders you can see on the left-hand side of the user interface. You can navigate this folder structure to find related assets for a specific topic. So, for example, if you'd like to find materials around Intercept X, you can simply open the Product Resources collection and then select Intercept X.
Filters: To further narrow down results, you can select specific categories which work like tags and filters. These are found across the top, with the categories filter on the left-hand side, file type in the middle, and language selections on the right. Don't forget that a lot of collateral is maintained in English only, and language neutral collateral, such as images and icons, will be found in the "unspecified" language category.
Search: Alternatively, you can also search for keywords. If you enter multiple search terms, try putting them in quotation marks or use search operators for even better results. Look at Search Tips at the right side of the search box to learn how you can refine your search to get the best results.
Bookmarks
You can also bookmark your favorite assets and save them in what we've called Playbooks for easy access. Just go to the requested asset and click the plus icon. Then select either an existing Playbook or create a new one and hit apply. You will then later easily find your playbooks via the Playbooks link at the top.