If you aren't familiar with the Gartner Magic Quadrant, it's a tool used by business leaders to help make better-informed product purchasing decisions. Many prospects use the Magic Quadrant as a tool to shortlist products for closer review. Inclusion in the Magic Quadrant is essentially a verification that the proposed solution is an industry leader and can deliver on the promises made.
This year's Magic Quadrant has been awaited with particular interest as two former categories, namely 'UTM Firewall' and 'Enterprise Firewall' were merged into the single entry of 'Network Firewall' back in 2019 and the shockwaves continue to ripple through the industry as vendors jockey for position in the new format. You've already seen the punchline, so there aren't any spoilers here: this year Sophos has been listed as a Visionary in the network firewall space, but what does that mean and how can we best use this news?
Well, before we can discuss this in any depth, it's important to understand exactly what is in-scope for this market category. Gartner defines the network firewall market as composed primarily of firewalls offering bidirectional controls (both egress and ingress) for securing network; a market which has grown 11.1% since the last quadrant was published a year ago. These networks can be on-premises, hybrid (on-premises and cloud), public cloud, or private cloud. Products in this category should have the capability to support one or more firewall deployment use cases, such as perimeter, small and midsize businesses (SMBs), data centre, cloud, and distributed offices. Importantly, there is no distinction on the size of the consumer, which is a big departure from the older system where the UTM quadrant was aimed more at the small-to-medium enterprise, leaving the Enterprise Firewall quadrant to focus specifically on the needs of the larger organisation.
There are 17 protagonists in this year's quadrant. Some are relatively unknown, while others are household names (at least in this sector).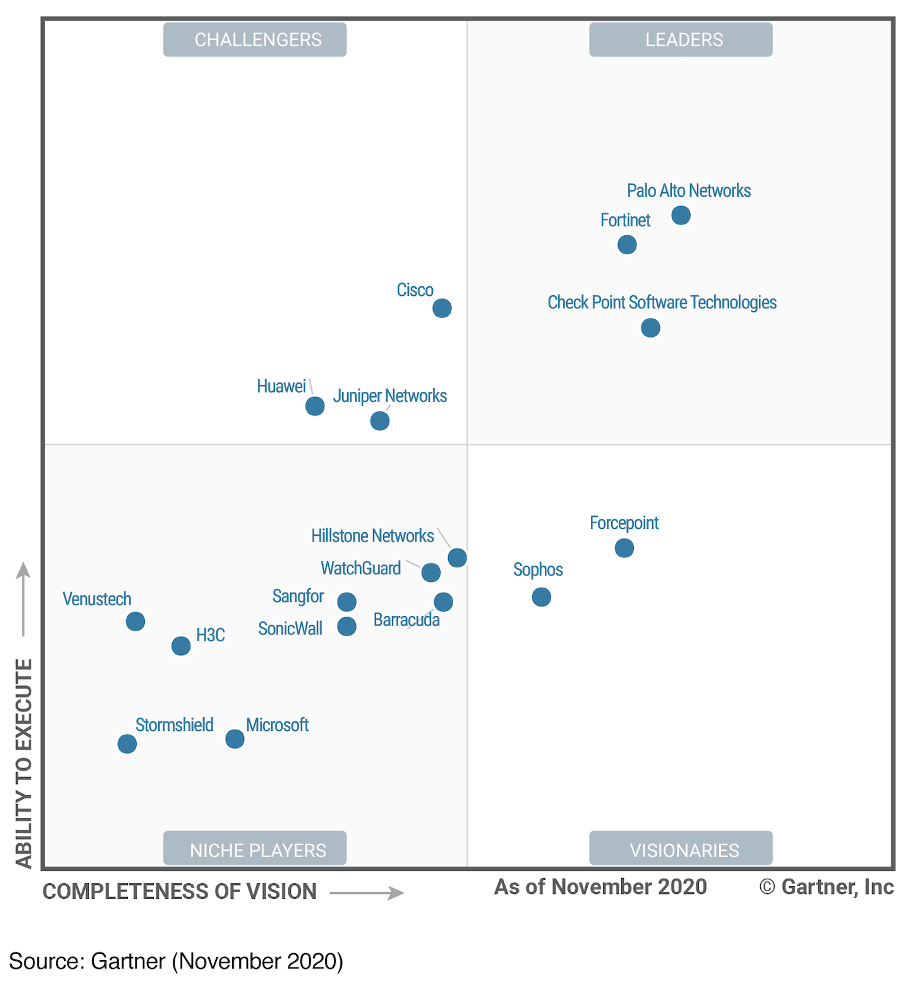 Sophos is one of only two vendors named a Visionary. We see this as clear recognition of our continued commitment to innovation within our product lines to face the constantly-evolving threat landscape and prepare for whatever the future might throw at us. I would venture that this innovation is perhaps best exemplified by our flagship feature of Synchronized Security—and it would seem that I'm not alone. Gartner specifically mentioned this as a key component of our offering (XDR is the generic industry term for this form of integration) –
'Sophos continues to lead the market with its XDR capabilities between firewall and endpoint security products. It is prominent in midsize use cases. The vendor wins deals primarily because of its XDR capabilities, cost savings and ease-of-use capabilities.'
It is also reassuring that our other key differentiators of ease-of-use and cost reduction are also called out in the summary, along with recognition of our target market of the small to medium enterprise.
The consolidation of the two quadrants has, perhaps, impacted Sophos more than most since our offering has been viewed very strongly in the UTM space where customer sizes are smaller, but we lack market penetration in the enterprise space, and this has led to a headwind effect in the consolidated quadrant.
Overall, the news is very positive. Our innovation has been recognised, our TCO and ease-of-use proposition are clear, and our target market is defined:
'Sophos [is] an ideal security vendor for midsize organizations.'
As we continue to improve performance through our XStream Architecture, add enterprise features like SD-WAN, and continue to evolve, our rise up the table is assured.
Onwards!
To read the Network Firewall quadrant in full, please click here
Gartner Magic Quadrant for Network Firewalls, Analysts: Rajpreet, Kaur | Hils, Adam | D'Hoinne, Jeremy | 9 November 2020
Gartner does not endorse any vendor, product or service depicted in its research publications, and does not advise technology users to select only those vendors with the highest ratings or other designation. Gartner research publications consist of the opinions of Gartner's research organization and should not be construed as statements of fact. Gartner disclaims all warranties, express or implied, with respect to this research, including any warranties of merchantability or fitness for a particular purpose.