Strap yourselves in, there are lots to cover! In this article, I'm going to attempt to cover all the key things you need to know about the launch of XGS.
Let's begin with the new hardware range. Whilst the new XGS line-up might look outwardly similar to the XG devices that you're already familiar with, under the cover beats the heart of a different beast. Not just one heart, but two, because every XGS appliance features a dual-processor architecture. The first is an x86 to carry out all the heavy-lift inspection tasks and the second is a custom-designed Xstream Flow Processor for application acceleration at the hardware layer. We have already made significant changes to the software architecture in v18 to make packet processing more efficient and so improve performance. The virtual FastPath we had in v18 with the XG Series hardware is now a hardware FastPath in the XGS Series using this new chip. This gives us a significant performance boost and provides sufficient headroom for customers to scale up their protection without slowing down their network.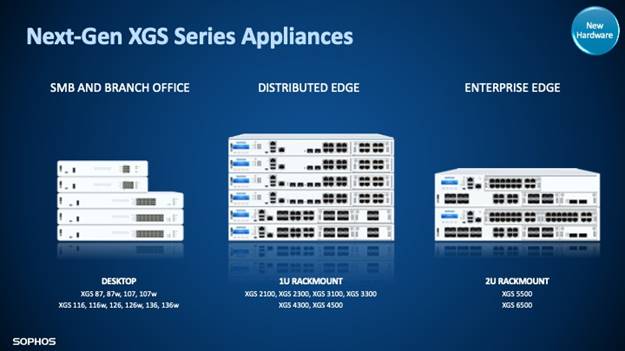 If you want to know more about the physical attributes check out Ian Stockdale's unboxing video, but let's now shift our attention to the software that will be running on these fantastic new appliances which will ship with Sophos Firewall OS (SFOS) v18.5.
This release, as you might expect, includes support for the new hardware models. In addition to that, it brings all the features and enhancements from every maintenance release since v18 with:
Extensive security hardening features
VPN and SD-WAN enhancements
Central Management and Reporting capabilities
and many more improvements
Version 18.5 for XG Series hardware and virtual will be available from June and our sizing resources will soon be upgraded to take into account the performance of the new platform.
Let's finish up on licensing. We've taken the opportunity to simplify our licensing model and to better reflect the needs of our customers. To this end, we'd like to introduce the Xstream Protection bundle, which offers all the modern protection technology every customer needs to protect against the latest attacks and ransomware with network, web, app control, zero-day protection and more. MSPs can also take advantage of a complete bundle including Xstream Protection plus Email and WAF protection. You can also customize protection for your customers by purchasing individual protection subscription licenses separately if needed.
We'll be covering more on the new hardware and its implications in our regular monthly product updates.
You can read the full XGS Series launch announcement here.