While some places may still struggle to get any kind of internet connection, the infrastructure investments which carriers have already made in 5G cellular networks could prove to be money well spent. As the potential use case for 5G is extended to new applications, it can also solve some existing coverage issues.
Connectivity Challenges for Remote Locations
Many of our desktop firewall appliances are deployed in retail and branch office locations with a stable, fixed-line broadband connection available. But the cost of extending fixed-line broadband to all locations is simply too high. This is particularly true for high-speed fiber, where the infrastructure costs for the network operator would greatly outweigh any possible Return-on-Investment. Rural areas and places with a lower or very widely variable population density, as seen in some very large countries, are the most impacted.
5G Fixed Wireless Access (FWA)
With the introduction of 5G, mobile technology has taken on a new role. 5G Fixed Wireless Access (FWA) may sound like a contradiction in terms, but as a technology, it allows network operators to deliver cost-effective, high-speed broadband connectivity to both suburban and rural areas. Using 5G, operators can now meet the demand for high speed internet access, such as that required for cloud services in business, and latency-free, high definition streaming services for consumers.
5G to Support SD-WAN
The use case for 5G is not just restricted to areas where current broadband access is limited. For many business locations, a 5G cellular network can be deployed to support traffic peaks or provide an important redundant/fallback connectivity option for SD-WAN.
Fully integrated 5G
Sophos is now introducing a 5G cellular module for all XGS 116, 126, and 136 models (including w-models) which have a modular expansion bay.
The new module enables 5G cellular network connections using the 5G Sub-6 bands, with download speeds of up to 4.5 Gbps and upload speeds of up to 660 Mbps (this may vary by carrier and region). The module also provides automatic fallback to 3G and 4G LTE (Cat-20) networks.
While other firewall vendors can only offer external solutions for 5G, our optional slot-in module becomes a fully supported, fully integrated part of the appliance, managed from your firewall console. This provides significantly better compatibility and interoperability than external solutions.
We deliver the module with four cable-connected antennas to allow optimal coverage and performance.
5G Product Support and Availability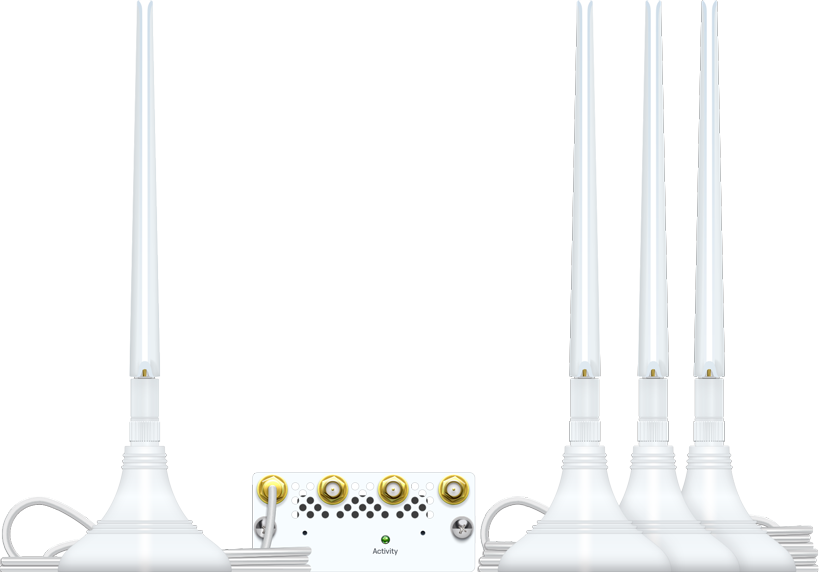 In contrast to our current 3G/4G modules, where two different versions were required to support all regions, we can offer a single SKU for the 5G module for worldwide use.
While the 5G module has gone through operational testing by the manufacturer in combination with many of the leading global carrier networks, some may require additional certifications for use. Please contact your local Sophos team for further information or check our Knowledgebase article which will be updated with new information as it becomes available.
These modules are already in stock in our warehouses.
The XGS 116, 116w, 126, 126w, 136 and 136w models offer out-of-the-box support for the new 5G module when running Sophos Firewall OS v19.5 MR1, which is scheduled for soft release on February 15, 2023.