The high-end 1U and 2U XGS Series models have started to arrive in some of our warehouses and will soon be available to order. As soon as the SKU status has changed, you will be able to quote and place orders for these models.
Existing XGS Series customers will also receive a notification about the availability of a new Sophos Firewall OS (SFOS) software build, v18.5 GA (Build 289). This software build contains the support for these models, plus some important bug fixes which will benefit all XGS Series customers. Please refer to the release notes for further information.
In some regions, the XGS 4300 and 4500 models are subject to a delay of approximately 2 weeks.
The current dates are shown below and may vary slightly by region due to the actual duration of the shipment and customs clearance. All regions mentioned below refer to the location of the Sophos warehouse facility.
XGS 4300 / XGS 4500

Status: On track – US and India; Approx. 2-week delay for other regions
First Order Date*: June 2 for US and India only. Other regions TBC, likely mid-June.
Expected First Ship (from Sophos Warehouse Location): June 2 for US and India only. Approx. June 14 for APAC. Approx. June 18 for Europe/UK (warehouses)
XGS 5500 / XGS 6500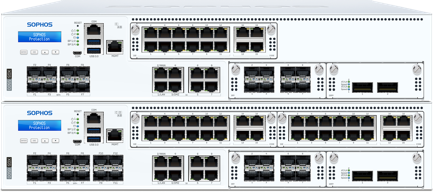 Status: On track
First Order Date*: June 2, 2021
Expected First Ship (from Sophos Warehouse Location): Between June 2 and approx. June 4
*If the certification for your region was not complete at the time of manufacturing, there could be an additional delay to availability until the next mass production run. The information regarding all Sophos managed certifications is included on the product label during manufacturing.
For further details about these models, including the full technical specifications, please see the information on the Partner Portal and refer your customers to sophos.com/compare-xgs
For specific requirements for your projects, please check with your local Sophos sales or distribution team for the latest availability status for your region.